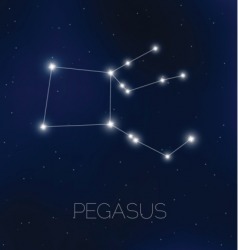 The constellation Pegasus
noun
The definition of Pegasus is a constellation which was discovered by Ptolemy during the second century.

Facts About Pegasus

Ptolemy listed the constellation of Pegasus as one of the 48 of the constellations that were discovered during modern times.
It is fairly easy to see this constellation during the late fall evenings starting in the month of October. It can be seen directly over the eastern horizon.
It is sometimes referred to as the Great Square of Pegasus because of the four main stars of which the constellation is composed - Scheat, Markab, Algenib and Alpheratz.
One of the most unique features of this constellation is that the stars represent the image of a winged horse flying upside down.
It is composed of a number of galaxy clusters including the Deer Lick Group which is composed of a large galaxy spiral and some smaller ones scattered throughout.
Pegasus is a symbol for the immortality of the soul.

An example of Pegasus is the constellation named after the winged horse in Greek mythology.
---
Pegasus
Gr. Myth.

a winged horse which springs from the body of Medusa at her death
a large N constellation between Andromeda and Pisces
Origin of Pegasus
Classical Latin from Classical Greek
P?gasos
---
Pegasus
noun
Greek Mythology A winged horse that with a stroke of his hoof caused the fountain Hippocrene to spring forth from Mount Helicon.
A constellation in the Northern Hemisphere near Aquarius and Andromeda.
Origin of Pegasus
Middle English
from
Latin
Pēgasus
from
Greek
Pēgasos
Pegasus
4th-century bc Greek coin
---
pegasus

Noun
(plural pegasuses or pegasi)
A winged horse (imaginary or mythical, sometimes figurative).
Origin
From the mythical Pegasus.
Proper noun
(Greek mythology) A winged horse fabled to have sprung from the blood of Medusa when she was slain. He is noted for causing, with a blow of his hoof, Hippocrene, the inspiring fountain of the Muses, to spring from Mount Helicon. Bellerophon tamed and rode upon Pegasus when he defeated the Chimaera.
Origin
From Latin, from Ancient Greek Πήγασος (Pegasos), traditionally associated with πηγή (pege, "spring, fountain, fountain fed by a spring"), especially used to denote springs of Ocean, where Perseus killed Medusa, from whose blood Pegasus sprang. Some have dismissed this as folk etymology and suggest a pre-Greek origin because of the -ασος suffix.
---
pegasus - Computer Definition
---