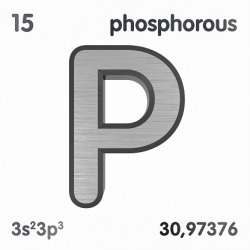 phosphorus
noun
Phosphorus is a poisonous nonmetallic chemical element.

An example of phosphorus is the element with the atomic number 15.
---
phosphorus
Archaic

any phosphorescent substance or object
a nonmetallic chemical element, normally a white, phosphorescent, waxy solid, becoming yellow when exposed to light: it is poisonous and unites easily with oxygen, so that it ignites spontaneously at room temperature: when heated in sealed tubes it is converted into a red form, which is nonpoisonous and less flammable than the white: when heated under a pressure of 10,000 atmospheres it is converted into a black powder: symbol, P; at. no. 15: a radioactive isotope (

phosphorus-32

) is used in the diagnosis and treatment of certain diseases, as a tracer in chemical and biochemical research, etc.
Origin of phosphorus
Modern Latin from Classical Latin
Phosphorus,
morning star from Classical Greek
ph?sphoros,
bringer of light from
ph?s,
a light, contr. from
phaos
from Indo-European base an unverified form
bh?-,
to shine from source Classical Greek
phainein,
to show (from source fantasy) + -phor(o)us
---
phosphorus
noun
P A highly reactive, poisonous, nonmetallic element occurring naturally in phosphates, especially apatite, and existing in three allotropic forms, white (or sometimes yellow), red, and black (or violet). An essential element for biological cells, it is used in safety matches, pyrotechnics, incendiary shells, and fertilizers and to protect metal surfaces from corrosion. Atomic number 15; atomic weight 30.9738; melting point (white) 44.15°C; boiling point 280.5°C; specific gravity (white) 1.82, (red) 2.16, (black) 2.25 to 2.69; valence 3, 4, 5. See Periodic Table.
A phosphorescent substance.
Phosphorus Astronomy See Lucifer.
Origin of phosphorus
Modern Latin
phōsphorus
substance or organism that emits light, phosphorus
Latin
Phōsphorus
morning star
from
Greek
phōsphoros
bringing light, morning star
phōs
light
; see
bhā-
1
in Indo-European roots.
-phoros
-phorous
---
phosphorus

Noun
(uncountable)
(chemistry) a chemical element (symbol P) with an atomic number of 15, that exists in several allotropic forms.
Usage notes
Do not confuse phosphorus with phosphorous, which is an adjective.
Origin
Borrowing from Latin phōsphorus, from Ancient Greek φωσφόρος (phōsphoros, "the bearer of light"), from φῶς (phōs, "light") + φέρω (pherō, "to bear, to carry").
Proper noun
A name sometimes used for Hesperus, the personification in Greek mythology of the planet Venus.
An ancient Greek name for the morning star (the planet Venus when it is visible in the eastern sky before sunrise).
Origin
From Latinised Greek Phosphorus, from Ancient Greek Φωσφόρος (Fōsforos, "the bearer of light"), from φῶς (fōs, "light") + φέρω (pherō, "I bear, carry").
---