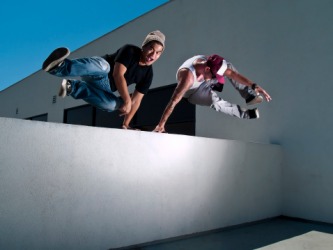 Young men practicing the sport of parkour.
noun
Parkour is the sport of moving quickly over walls, benches, and anything else in the way using leaping, climbing and running in a smooth, graceful way.

An example of parkour is how a criminal runs through a park and clears tables, walls and other structures with ease in an action movie chase scene.
---
parkour
noun
A sport or athletic activity in which the participant seeks to move quickly and fluidly through an area, often an urban locale, by surmounting obstacles such as walls and railings and leaping across open spaces, as in a stairwell or between buildings.
Origin of parkour
French
from respelling of
parcours
course
(
as in
parcours du combattant
obstacle course (literally, "combatant's course")
)
from
Old French
right to drive animals in an area, route
from
Medieval Latin
percursus
from past participle of
Latin
percurrere
to run through, rove
; see
percurrent
.
---
parkour

Verb
(third-person singular simple present parkours, present participle parkouring, simple past and past participle parkoured)
(intransitive) To freerun; to use parkour (to move over).
Origin
From French parkour, altered spelling of parcours.
---