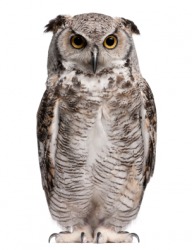 A great horned owl.
noun
The definition of an owl is a nocturnal bird of prey with forward-facing eyes and a hooded beak.

A flat-faced bird that comes out at night and hoots is an example of an owl.
---
owl
any of a worldwide order (Strigiformes) of predatory night birds distinguished by a large, flat face, eyes surrounded by stiff-feathered disks, a short, hooked beak, feathered legs with sharp talons, and soft plumage which permits noiseless flight: applied fig. to a person of nocturnal habits, solemn appearance, etc.
Origin of owl
Middle English
owle
from Old English
ule,
akin to German
eule
from Indo-European echoic base an unverified form
ul-
from source Classical Latin
ulula,
owl,
ululare,
to howl
---
owl
noun
Any of various often nocturnal birds of prey of the order Strigiformes, having hooked and feathered talons, a large head with a short hooked beak, large eyes set forward, and fluffy plumage that allows for almost noiseless flight.
Any of several breeds of domestic pigeons having a very short beak somewhat like that of an owl and often a frill of feathers on the chest.
Origin of owl
Middle English
owle
from
Old English
ūle
of imitative origin
---
owl

Noun
(plural owls)
Any of various birds of prey of the order Strigiformes that are primarily nocturnal and have forward-looking, binocular vision, limited eye movement, and good hearing.
Origin
From Middle English owle, from Old English Å«le, from Proto-Germanic *uwwalÇ­ (compare West Frisian ûle, Dutch uil, Danish ugle, German Eule), diminutive of *uwwōn "˜eagle-owl' (compare German Uhu), of imitative origin or a variant of *Å«faz, *Å«fōn (compare Swedish uv "˜horned owl', Bavarian Auf), from Proto-Indo-European *up- (compare Latvian Å©pis "˜eagle-owl', Czech úpÄ›ti "˜to wail, howl', Avestan ufyeimi "˜to call out') .
Noun
(plural owls)
Part or all of this entry has been imported from the 1913 edition of Webster's Dictionary, which is now free of copyright and hence in the public domain. The imported definitions may be significantly out of date, and any more recent senses may be completely missing.
Noun
(plural OWLs)
(computing) Initialism of Web Ontology Language.
---
owl - Computer Definition
(1) (Web Ontology Language) A comprehensive language that is used to define the vocabulary in an RDF data model. A superset of the RDFS language, every OWL document is an RDF document, but OWL Lite and OWL DL (OWL Description Logistics) are subsets (see RDFS). Why Is This OWL Instead of WOL? Because OWL sounds catchier and is also reminiscent of William A. Martin's One World Language project of the 1970s. See RDF, SPARQL and Semantic Web.
(2) (ObjectWindows Library) A class library of Windows objects from Borland that serves as an application framework for developing Windows applications in C++. It is the Borland counterpart of the Microsoft Foundation Class Library (MFC).
---