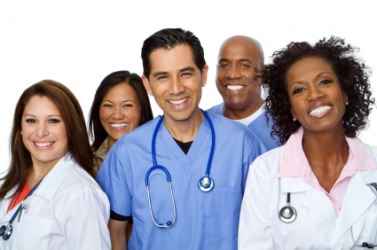 People in the nursing profession.
noun
Nursing is the work of taking care of someone who is sick or in need of care, or to assist a doctor or surgeon.

An example of nursing is one of the jobs common at a hospital.
verb
Nursing is defined as feeding a baby breast milk.

An example of nursing is a mother giving a baby milk through her breast.
---
nursing
the duties or profession of a nurse
the medical care given by a nurse
---
nursing
noun
The profession of a nurse.
The tasks or care of a nurse.
---
nursing

Adjective
(comparative more nursing, superlative most nursing)
In the state of suckling young, lactating.

The nursing bear wouldn't move far until her cubs were older.

Referring to nurses.

The nursing staff worked overtime at the hospital.
Verb
Present participle of nurse.

The mother sat there nursing her baby.
---