nursing
[nʉr′siŋ]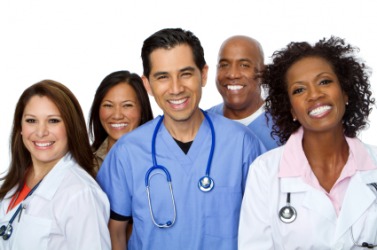 People in the nursing profession.
noun
Nursing is the work of taking care of someone who is sick or in need of care, or to assist a doctor or surgeon.

An example of nursing is one of the jobs common at a hospital.
verb
Nursing is defined as feeding a baby breast milk.

An example of nursing is a mother giving a baby milk through her breast.
---
nursing
noun
the duties or profession of a nurse
the medical care given by a nurse
---
nursing
noun
The profession of a nurse.
The tasks or care of a nurse.
---
nursing
Adjective
(comparative more nursing, superlative most nursing)
In the state of suckling young, lactating.

The nursing bear wouldn't move far until her cubs were older.

Referring to nurses.

The nursing staff worked overtime at the hospital.
Verb
Present participle of nurse.

The mother sat there nursing her baby.
---
nursing
Variant of nurse
noun
wet nurse
a woman hired to take full care of another's young child or children; nursemaid
a person trained to take care of the sick, injured, or aged, to assist surgeons, etc.; specif., a registered nurse or a practical nurse
a person or thing that nourishes, fosters, protects, etc.

Zool.

a worker bee or ant that cares for the young
Origin of nurse
Middle English
norse
; from Old French
norice
; from Late Latin
nutricia
; from Classical Latin
nutricius
, that suckles or nourishes ; from
nutrix
(gen.
nutricis
), wet nurse ; from
nutrire
, to nourish ; from Indo-European an unverified form
(s)neu-
, variant, variety of base an unverified form
(s)nā-
, to flow from source natant, Sanskrit
snāuti
, (she) gives milk, Classical Greek
naein
, to flow
transitive verb
nursed, nursing
to give milk from the breast to (an infant); suckle
to suck milk from the breast of
to take care of (a child or children)
to bring up; rear
to tend (the sick, injured, or aged)
to cause to continue, grow, or develop; nourish or foster: to nurse a grudge
to treat, or try to cure: to nurse a cold

to use, operate, or handle cautiously or carefully, so as to avoid injury, pain, exhaustion, etc.: to nurse an injured leg
to consume, spend, etc. slowly or carefully so as to conserve: to nurse a highball

to clasp; hold carefully; fondle

Billiards

to keep (the balls) close together for a series of caroms
intransitive verb
to be suckled; feed at the breast
to suckle a child
to tend the sick, injured, etc. as a nurse