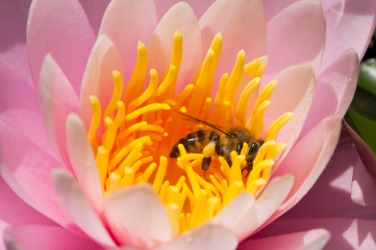 Pollination is an example of mutualism.
noun
Mutualism is defined as a relationship that benefits two organisms, or it is defined as a doctrine in sociology where mutual aid is beneficial to society and the individual.

An example of mutualism is pollination which is when bees take nectar from flowers and then deposit the nectar on another flower.
An example of mutualism is a mutual relationship such as co-ownership of property where both parties benefit.
---
mutualism
Biol.
symbiosis with mutual advantage to both or all organisms involved
---
mutualism
noun
An association between two organisms of different species in which each member benefits.
Related Forms:
mu′tu·al·is′tic

adjective
mutualism
a clownfish is protected by a sea anemone, which stings the fish's predators; in turn, the clownfish removes parasites from the sea anemone
---
mutualism

---