mockingbird

mock·ing·bird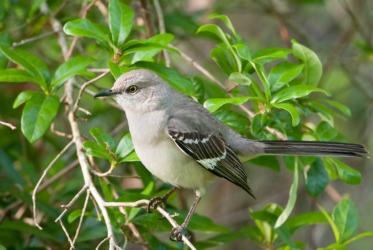 A lovely mockingbird.
noun
The definition of a mockingbird is a songbird that usually lives in tropical parts of America and can mimic the sounds made by other birds.

An example of a mockingbird is a long-tailed grey bird that lives in the south and that mimics sparrows, robins and other birds.
---
mockingbird
any of various New World passerine birds (family Mimidae), esp. a species (Mimus polyglottos) of the U.S. noted for its song and its ability to imitate the calls of many other birds
---
mockingbird
noun
Any of several species of New World birds of the family Mimidae, especially Mimus polyglottos, a gray and white bird of North America and the Caribbean islands, noted for the ability to mimic the sounds of other birds.
---
mockingbird

Noun
(plural mockingbirds)
---