noun
The definition of a mangrove is a tropical tree or shrub that grows in swampy areas and has tangled roots located above ground, or a tidal swamp with a number of these types of trees and shrubs.

A tree with above-ground, tangled roots that is growing in a wetlands area in Florida is an example of a mangrove.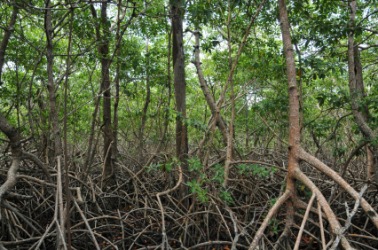 Tangled mangroves in a swamp.
---
mangrove definition by Webster's New World
noun
any of various coastal or aquatic tropical trees or shrubs, esp. of the mangrove family, that form large colonies in swamps or shallow water and provide a habitat for young fish and shrimp
Origin: altered (infl. by grove) ; from earlier mangrowe ; from Portuguese mangue ; from Spanish mangle ; from the West Indian (Taino) name
adjective
designating a family (Rhizophoraceae, order Rhizophorales) of dicotyledonous trees and shrubs that inhabit tidal marshes and river mouths in the tropics
Webster's New World College Dictionary Copyright © 2010 by Wiley Publishing, Inc., Cleveland, Ohio. Used by arrangement with John Wiley & Sons, Inc.
---
mangrove definition by American Heritage Dictionary
noun
Any of several tropical evergreen trees or shrubs of the genus Rhizophora, having stiltlike roots and stems and forming dense thickets along tidal shores.
Any of various similar shrubs or trees, especially of the genus Avicennia.
Origin: Probably Portuguese mangue (from Taino) + grove.