mangrove

man·grove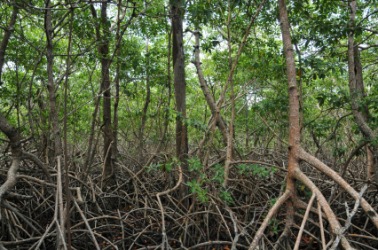 Tangled mangroves in a swamp.
noun
The definition of a mangrove is a tropical tree or shrub that grows in swampy areas and has tangled roots located above ground, or a tidal swamp with a number of these types of trees and shrubs.

A tree with above-ground, tangled roots that is growing in a wetlands area in Florida is an example of a mangrove.
---
mangrove
any of various coastal or aquatic tropical trees or shrubs, esp. of the mangrove family, that form large colonies in swamps or shallow water and provide a habitat for young fish and shrimp
Origin of mangrove
altered (infl. by grove) from earlier
mangrowe
from Portuguese
mangue
from Spanish
mangle
from the West Indian (Taino) name
designating a family (Rhizophoraceae, order Rhizophorales) of dicotyledonous trees and shrubs that inhabit tidal marshes and river mouths in the tropics
---
mangrove
noun
Any of various tropical or subtropical evergreen salt-tolerant trees or shrubs especially of the family Rhizophoraceae, forming dense thickets along tidal shores and typically having well-developed aerial roots.
Origin of mangrove
Probably
Portuguese
mangue
(
from
Taíno)
grove
mangrove
red mangrove
Rhizophora mangle
---
mangrove

Noun
(plural mangroves)
A habitat with such plants; mangrove forest; mangrove swamp.
Plants of the Rhizophoraceae family.
Trees of the genus Rhizophora.
---