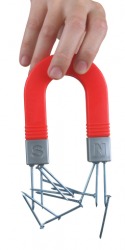 Nails being lifted with a magnet.
noun
The definition of a magnet is a person or thing that attracts, or a piece of iron that can attract other iron.

Facts About Magnets

Magnets work because of the movement of electrons that produce a tiny magnetic field. Electrons can act like particles or waves, and they have a charge and mass.
A magnet produces a magnetic field which attracts metals such as iron, cobalt, and nickel. In this magnetic field, the lines of force exit through the north pole and enter through the south pole, so that explains why opposite poles attract.

A magnet can have more than one north or south pole, but they always occur in pairs, so if it had two north poles, it would also have two south poles.
The strongest natural magnet is lodestone.

Uses of Magnets

Computers use magnets to store data.
Magnets are important parts of televisions, compasses, speedometers, generators, transformers, electric motors, and burglar alarms.
Trains use magnetic propulsion to travel fast.
The Earth uses its magnetic field to protect it from the solar wind.

Medical uses include MRIs (Magnetic Resonance Imaging) and electromagnetic fields that can help bones heal as well as helping to prevent bone and muscle loss in zero gravity environments.

Magnet therapy involves placing magnets on parts of the body to alleviate pain. It is said that this works because more blood is attracted to the area (the iron in the blood), which speeds healing, and the magnets affect nearby cells.

An example of a magnet is a light that attracts moths at night.
An example of a magnet is a set of plastic letters with iron backs that cling to the side of a refrigerator.
---
magnet
any piece of certain, esp. ferromagnetic, material, as iron, that produces a magnetic field, thereby attracting ferromagnetic materials and attracting or repelling other magnets: this property may be permanent or temporarily induced

see also electromagnet

a person or thing that attracts or collects as if by magnetism
Origin of magnet
Middle English
magnete
from Old French from Classical Latin
magnes
(gen.
magnetis
) from Classical Greek
Magn?tis (lithos),
(stone) of Magnesia
---
magnet
noun
An object that is surrounded by a magnetic field and that has the property, either natural or induced, of attracting iron or steel.
An electromagnet.
A person, a place, an object, or a situation that exerts attraction: a village that is a magnet for tourists.
Origin of magnet
Middle English
magnes, magnet
ultimately
(
probably partially via
Old French
magnete
)
from
Latin
magnēs
magnēt-
from
Greek
Magnēs (lithos)
Magnesian (stone), magnet
after
Magnēsiā
, a region of Thessaly
or
Magnēsiā
, a city in ancient Lydia
magnet-
---
magnet

Usage notes
When combined with a word or another affix which begins with a consonant, this prefix concatenates with -o- (as magneto-).
Origin
Partially from μᾰ́γνητ- (magnÄ"t-), the stem of the Ancient Greek μᾰ́γνης (magnÄ"s, "magnet"), and partially a combining form of the English magnet.
---