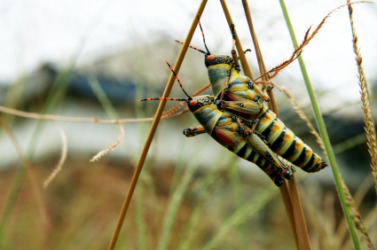 A pair of locust.
noun
The definition of a locust is a type of grasshopper that migrates in huge numbers quickly eating the plants in their path, or a hardwood tree with fragrant white flowers.

An example of a locust is the plague told about in Exodus 10:1-20 in the New International Version of the Bible.
---
locust
any of various large grasshoppers; specif., a migratory grasshopper often traveling in great swarms and causing extensive damage to vegetation
seventeen-year locust

a spiny tree (Robinia pseudoacacia) of the pea family, native to the E or central U.S. and having long, pendulous racemes of fragrant white flowers

also called

black locust

or

yellow locust

the yellowish, hard, durable wood of this tree

any honeylocust
carob (sense )
Origin of locust
Middle English from Classical Latin
locusta
, probably akin to
lacerta
, lizard
---
locust
noun
Any of various short-horned grasshoppers that sometimes migrate in immense swarms, devouring vegetation and crops.
A cicada, especially a periodical cicada.

a. Any of several trees of the pea family bearing long pods, especially the black locust, honey locust, and carob.

b. The wood of any of these trees.
Origin of locust
Middle English
from
Old French
locuste
from
Latin
locusta
Sense 3a, probably from the resemblance of a carob pod to a grasshopper and the use of both as subsistence food in drier regions of the Near East
locust
black locust
Robinia pseudoacacia
---
locust

Usage notes
sometimes confused with locus
---