noun
The definition of a locust is a type of grasshopper that migrates in huge numbers quickly eating the plants in their path, or a hardwood tree with fragrant white flowers.

An example of a locust is the plague told about in Exodus 10:1-20 in the New International Version of the Bible.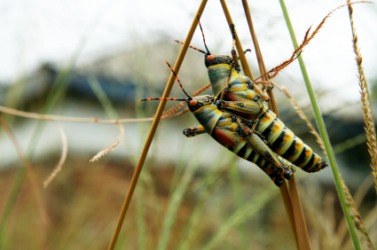 A pair of locust.
---
locust definition by Webster's New World
noun
any of various large grasshoppers; specif., a migratory grasshopper often traveling in great swarms and destroying nearly all vegetation in areas visited
seventeen-year locust

a spiny tree (Robinia pseudoacacia) of the pea family, native to the E or Central U.S. and having long pendulous racemes of fragrant white flowers
the yellowish, hard, durable wood of this tree

any honeylocust
carob (sense )
Origin: Middle English ; from Classical Latin locusta, probably akin to lacerta, lizard
Webster's New World College Dictionary Copyright © 2010 by Wiley Publishing, Inc., Cleveland, Ohio. Used by arrangement with John Wiley & Sons, Inc.
---
locust definition by American Heritage Dictionary
noun
Any of numerous grasshoppers of the family Acrididae, often migrating in immense swarms that devour vegetation and crops.
The seventeen-year locust.

a. Any of several North American deciduous trees of the genus Robinia, especially R. pseudoacacia, having compound leaves, drooping clusters of fragrant white flowers, and durable hard wood.

b. Any of several similar or related trees, such as the honey locust or the carob.

c. The wood of one of these trees.
Origin: Middle English, from Old French locuste, from Latin locusta. Sense 3a, probably from the resemblance of its fruit to a locust.
locust
black locust
Robinia pseudoacacia