noun
The definition of a legume is a pod or pea plant, or the seed of such a plant.

An example of a legume is a bean.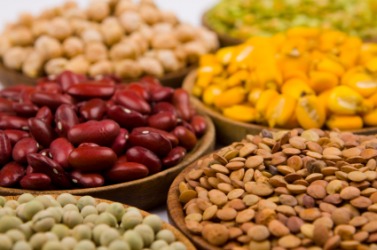 Different types of legumes.
---
legume definition by Webster's New World
noun
any of an order (Fabales) of dicotyledonous herbs, shrubs, and trees, including the peas, beans, mimosas, and the Kentucky coffee tree, with usually compound leaves, flowers having a single carpel, and fruit that is a dry pod splitting along two sutures: many legumes are nitrogen-fixing and often are used as green manure and for forage
the pod or seed of some members of this order, used for food
Origin: French légume ; from Classical Latin legumen, literally , anything that can be gathered ; from legere, to gather: see logic
Webster's New World College Dictionary Copyright © 2010 by Wiley Publishing, Inc., Cleveland, Ohio. Used by arrangement with John Wiley & Sons, Inc.
---
legume definition by American Heritage Dictionary
noun
a. A pod, such as that of a pea or bean, that splits into two valves with the seeds attached to one edge of the valves.

b. Such a pod or seed used as food.

A plant of the pea family.
Origin: French légume, from Latin legūmen, bean.
The American Heritage® Dictionary of the English Language, 4th edition Copyright © 2010 by Houghton Mifflin Harcourt Publishing Company. Published by Houghton Mifflin Harcourt Publishing Company. All rights reserved.
---
legume - Science Definition
Any of a large number of eudicot plants belonging to the family Leguminosae (or Fabaceae). Their characteristic fruit is a seed pod. Legumes live in a symbiotic relationship with bacteria in structures called nodules on their roots. These bacteria are able to take nitrogen from the air, which is in a form that plants cannot use, and convert it into compounds that the plants can use. Many legumes are widely cultivated for food, as fodder for livestock, and as a means of improving the nitrogen content of soils. Beans, peas, clover, alfalfa, locust trees, and acacia trees are all legumes.
The seed pod of such a plant.
Related Forms: