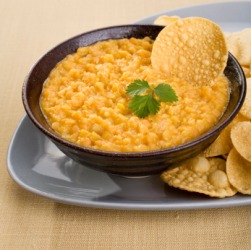 A bowl of cooked dal.
---
dahl definition by Webster's New World
Webster's New World College Dictionary Copyright © 2010 by Wiley Publishing, Inc., Cleveland, Ohio. Used by arrangement with John Wiley & Sons, Inc.
---
dahl definition by American Heritage Dictionary
noun
See pigeon pea.
or dal A thick creamy East Indian stew made with lentils or other legumes, onions, and various spices.
Origin: Hindi dāl, dahl seed, from Sanskrit dalaḥ, dalam, piece split off, from dalati, he splits; see der- in Indo-European roots.
, Roald 1916-1990.
British fiction and screenplay writer best known for his children's books, including James and the Giant Peach (1961) and Charlie and the Chocolate Factory (1964).
dahl
Variant of dal
noun
any of various kinds of pulse used as food in India
a dish of India made by simmering this in water with spices, herbs, oil, onions, etc. to a thick, mushy consistency and served as with chapatis or rice