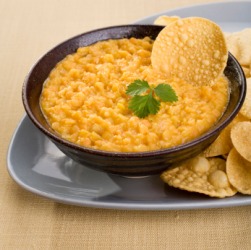 A bowl of cooked dal.
Licensed from iStockPhoto
---
noun
any of various kinds of pulse used as food in India
a dish of India made by simmering this in water with spices, herbs, oil, onions, etc. to a thick, mushy consistency and served as with chapatis or rice
Webster's New World College Dictionary
Copyright © 2010 by Wiley Publishing, Inc., Cleveland, Ohio.
Used by arrangement with John Wiley & Sons, Inc.
---
The American Heritage® Dictionary of the English Language
, 4th edition Copyright © 2010 by Houghton Mifflin Harcourt Publishing Company. Published by Houghton Mifflin Harcourt Publishing Company. All rights reserved.
---
dal - Computer Definition
(1) (Dedicated Access Line) A private "tie line" between a customer and the telephone company.
(2) (Data Access Language) A database interface from Apple that allows the Mac to access DAL-supported databases on Macs or non-Apple computers. It is a superset of SQL. Database vendors license the specs and translate DAL calls to their database engines.
Computer Desktop Encyclopedia
THIS DEFINITION IS FOR PERSONAL USE ONLY
All other reproduction is strictly prohibited without permission from the publisher.
© 1981-2014 The Computer Language Company Inc. All rights reserved.