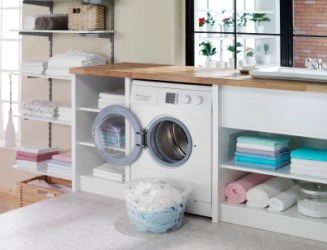 A modern laundry in a home.
noun
The definition of laundry is a group of clothes or linens that are being washed, or a place where clothing and other fabrics are washed or cleaned.

An example of laundry is the batch of dirty towels that you put into the washing machine.
An example of a laundry is a store where customers use coin operated machines to wash and dry clothes.
---
laundry
noun
pl.
-·dries
Rare

the act or process of laundering

a room with facilities for laundering
a commercial establishment providing laundering service
a commercial establishment providing self-service laundering facilities; laundromat

clothes, linens, etc. that have been, or are about to be, laundered
a place or process for laundering money that has been illegally or improperly obtained
Origin of laundry
Middle English
lavenderie
from Old French from
lavandier
: see launder
---
laundry
noun
pl.
laun·dries
Soiled or laundered clothes and linens; wash.

a. A commercial establishment for laundering clothes or linens.

b. A room or area, as in a house, for doing the wash.
Origin of laundry
Middle English
lavendrye, laundry
from
Old French
lavanderie
from
lavandier
; see
launder
.
---
laundry

Noun
(plural laundries)
A laundering; a washing.
A place or room where laundering is done - including, by extension, other forms of laundering than clothes washing.
That which needs to be, is being, or has been laundered.

You've left your dirty laundry all over the house.
Origin
From Old French lavanderie. See launder.
---