kiosk

ki·osk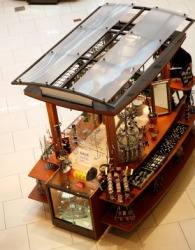 A jewellry kiosk in a shopping mall.
noun
The definition of a kiosk is a small storefront or booth in which magazines, newspapers and other related items are sold, or an interactive, free-standing terminal.

A small booth in the walkway of a mall where jewelry is sold is an example of a kiosk.
A free-standing terminal with a touch screen that allows self-service car rental check in in an example of a kiosk.
---
kiosk
in Turkey and Persia, a summerhouse or pavilion of open construction
a somewhat similar small structure open at one or more sides, used as a newsstand, bandstand, entrance to a subway, etc.
any of various unmanned, free-standing structures housing, variously, interactive terminals, video monitors, etc., located in retail stores or other public places for the use of customers, the general public, etc.
Origin of kiosk
French
kiosque
from Turkish
kö?k
from Persian
k?shk,
palace
---
kiosk
noun
A small structure, usually open in front, used as a newsstand or a place for selling goods or conducting transactions, as at a bank.
A small structure housing an electronic terminal for public use, as for purchasing tickets or accessing information.
A usually cylindrical structure on which advertisements are posted.
Archaic A small open gazebo or pavilion.
Origin of kiosk
Ultimately
(
partly via
French
kiosque
) (Italian
chiosco
with French ki- and Italian chi- representing Turkish palatalized k-
)
from
Turkish
köşk
gazebo, pavilion
from
Persian
kōšk
palace
from
Middle Persian
of unknown origin
Word History:
Kiosk
comes from the Turkish word
köşk,
which originally referred to a kind of open pavilion or summerhouse in Turkey and Persia, often built on a hexagonal or many-sided base. The upper classes of the Ottoman Empire would enjoy entertainments and view their gardens in the comfort of such buildings. When the word first began to appear in English,
kiosk
referred to these Middle Eastern pavilions, which Europeans imitated in their own gardens and parks. In France and Belgium, the word
kiosque
was applied to something lower on the scale, structures resembling these pavilions but used as places to sell newspapers or as bandstands. When such lowly structures began to be built in England for these purposes, the word
kiosk
was reborrowed from French in the middle of the 1800s with the meaning "a place where newspapers are sold."
kiosk
---
kiosk

---
kiosk - Computer Definition
A small, self-standing structure such as a newsstand or ticket booth. The original kiosk had room inside for a person who handled the transactions; however, the term evolved to refer to unattended self-service booths with computers that dispense information or make sales via a touchscreen. Other than simple soda or candy machines, almost any modern vending machine that accepts credit cards can be called a kiosk. For example, digital photo kiosks are today's counterpart to the earlier, manned kiosks for analog film developing. Accepting memory card or CD/DVD input, they allow users to select images and perform limited editing. The units can make prints on the spot as well as burn them onto a CD. See self-service application and touchscreen.
---