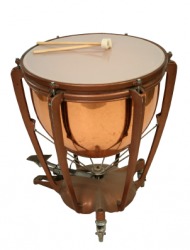 A kettledrum.
---
kettledrum
noun
a percussion instrument consisting of a hollow hemisphere of copper or brass and a parchment top that can be tightened or loosened to change the pitch; timpano
---
kettledrum
---
kettledrum
Noun
(plural kettledrums)
(music) A large hemispherical brass percussion instrument (one of the timpani) with a drumhead that can be tuned by adjusting its tension.
(dated) An informal social party at which a light collation is offered, held in the afternoon or early evening.
---