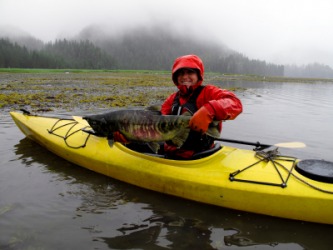 A woman in a kayak.
---
kayak definition by Webster's New World
noun
an Eskimo canoe made of skins completely covering a wooden frame except for an opening in the middle for the paddler
any similarly designed canoe for one or two paddlers, made of canvas, plastic, fiberglass, etc.
Origin: Eskimo
intransitive verb
to paddle, or go in, a kayak
Webster's New World College Dictionary Copyright © 2010 by Wiley Publishing, Inc., Cleveland, Ohio. Used by arrangement with John Wiley & Sons, Inc.
---
kayak definition by American Heritage Dictionary
also kai·ak
noun
An Inuit or Eskimo boat consisting of a light wooden frame covered with watertight skins except for a single or double opening in the center, and propelled by a double-bladed paddle.
A lightweight canoe that is similar in design.
verb
kay·aked
also
kai·aked
,
kay·ak·ing
also
kai·ak·ing
,
kay·aks
also
kai·aks
verb
, intransitive
To go, travel, or race in a kayak.
verb
, transitive
To go or travel on (a body of water) by kayak: kayaked rapids of the Colorado River.
Origin: Canadian Eskimo and Inuit qajaq.
Related Forms: