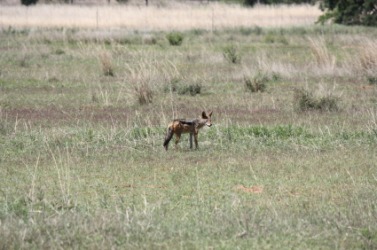 A little jackal.
Licensed from iStockPhoto
---
noun
pl. jackals or jackal
any of several wild dogs of Asia and N Africa, mostly yellowish-gray and smaller than the wolf: they often hunt prey in packs, generally at night, and also eat carrion and certain plants
a person who does dishonest or humiliating tasks for another: from the notion that the jackal hunts game for the lion and eats the leavings
a cheat or swindler
Origin: Turk chaqāl from Persian shagāl from Sanskrit śrgālá
Webster's New World College Dictionary
Copyright © 2010 by Wiley Publishing, Inc., Cleveland, Ohio.
Used by arrangement with John Wiley & Sons, Inc.
---
noun
Any of several doglike mammals of the genus Canis of Africa and southern Asia that are mainly foragers feeding on plants, small animals, and occasionally carrion.

a. An accomplice or a lackey who aids in the commission of base or disreputable acts.

b. One who performs menial tasks for another.
Origin: Turkish chakāl, from Persian shaghāl, from Middle Indic shagāl, from Sanskrit śṛgālaḥ.
The American Heritage® Dictionary of the English Language
, 4th edition Copyright © 2010 by Houghton Mifflin Harcourt Publishing Company. Published by Houghton Mifflin Harcourt Publishing Company. All rights reserved.
jackal
Variant of jackal
noun
pl. jackals or jackal
any of several wild dogs of Asia and N Africa, mostly yellowish-gray and smaller than the wolf: they often hunt prey in packs, generally at night, and also eat carrion and certain plants
a person who does dishonest or humiliating tasks for another: from the notion that the jackal hunts game for the lion and eats the leavings
a cheat or swindler
Origin: Turk chaqāl from Persian shagāl from Sanskrit śrgālá