indigo

in·di·go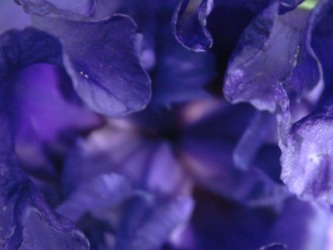 These iris petals are indigo.
adjective
The definition of indigo is something bluish purple in color.

An example of indigo is a deep purple dress with a hint of blue.
noun
Indigo is defined as a deep bluish purple color or dye.

An example of indigo is a dark bluish purple iris flower.
---
indigo
noun
pl.

-·gos·

or

-·goes·
a blue dye, CHNO, obtained from certain plants, esp. a plant (Indigofera tinctoria) native to India, or made synthetically, usually from aniline
any of a genus (Indigofera) of plants of the pea family that yield indigo
a deep violet-blue color, designated by Newton as one of the seven prismatic or primary colors
Origin of indigo
Spanish from Classical Latin
indicum
from Classical Greek
indikon (pharmakon
), literally , Indian (dye) from
Indikos
, Indian from
India
, India
---
indigo
noun
pl.
in·di·gos,
or
in·di·goes
a. Any of various shrubs or herbs of the genus Indigofera in the pea family, having pinnately compound leaves and usually red or purple flowers in axillary racemes.

b. A dark blue crystalline compound, C16H10N2O2, that is obtained from these plants or produced synthetically and is widely used as a textile dye. Also called indigotin .

Any of several related plants, especially those of the genera Amorpha and Baptisia.
The hue of that portion of the visible spectrum lying between blue and violet, evoked in the human observer by radiant energy with wavelengths of approximately 420 to 450 nanometers; a dark blue to grayish purple blue.
Origin of indigo
Spanish
índigo
Dutch
indigo
(
from
Portuguese
endego
)
both from
Latin
indicum
from
Greek
Indikon (pharmakon)
Indian (dye)
neuter of
Indikos
of India
from
India
India
from
Indos
the Indus River
from
Old Persian
Hinduš
Sind
; see
Hindi
.
Related Forms:
---
indigo

Noun
(countable and uncountable, plural indigos or indigoes)
An indigo-colored dye obtained from certain plants (the indigo plant or woad), or a similar synthetic dye.
An indigo plant, such as from species in genera Indigofera, Amorpha (false indigo), Baptisia (wild indigo), and Psorothamnus and Dalea (indigobush).
Adjective
Having a deep blue colour.
Origin
From Spanish indico, Portuguese endego, or Dutch (via Portuguese) indigo, all from Latin indicum ("indigo"), from Ancient Greek Ἰνδικὸν (Indikon, "Indian dye"), from Ἰνδία (India).
See also:
índigo
---
indigo - Computer Definition
(1) An earlier family of desktop graphics computers from SGI. The low end were the Indy machines, which included their own digital video camera. The high end included a variety of Indigo workstations, with models specialized for graphics functions such as accelerated texture mapping and image processing. See SGI.
(2) The code name of the messaging system introduced in Windows Vista. See Windows Communication Foundation.
---