adjective
The definition of incredulous is feeling that something that is hard to believe.

An example of incredulous is someone's reaction to winning the lottery.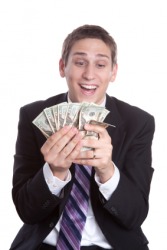 This man is incredulous.
---
incredulous definition by Webster's New World
adjective
unwilling or unable to believe; doubting; skeptical
showing doubt or disbelief: an incredulous look
Origin: Classical Latin incredulus: see in- and amp; credulous
Webster's New World College Dictionary Copyright © 2010 by Wiley Publishing, Inc., Cleveland, Ohio. Used by arrangement with John Wiley & Sons, Inc.
---
incredulous definition by American Heritage Dictionary
adjective
Skeptical; disbelieving: incredulous of stories about flying saucers.
Expressive of disbelief: an incredulous stare.
Origin: From Latin incrēdulus : in-, not; see in-1 + crēdulus, believing; see credulous.
Related Forms: