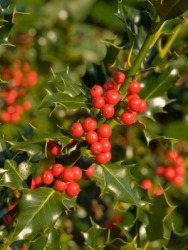 A branch of the holly tree.
---
holly definition by Webster's New World
noun
pl.
hollies
any of a genus (Ilex) of small trees and shrubs of the holly family, with stiff, glossy, sharp-pointed leaves and clusters of bright-red berries
the leaves and berries, used as Christmas ornaments
Origin: Middle English holi, holin ; from Old English holegn ; from Indo-European base an unverified form kel-, to prick from source Welsh celyn, holly, Sanskrit kaṫambá-, arrow
adjective
designating a family (Aquifoliaceae, order Celastrales) of dicotyledonous trees and shrubs, including the dahoon and black alder
Webster's New World College Dictionary Copyright © 2010 by Wiley Publishing, Inc., Cleveland, Ohio. Used by arrangement with John Wiley & Sons, Inc.
---
holly definition by American Heritage Dictionary
noun
pl.
hol·lies
a. Any of numerous trees or shrubs of the genus Ilex, usually having bright red berries and glossy evergreen leaves with spiny margins.

b. Branches of these plants, traditionally used for Christmas decoration.

Any of various similar or related plants.
Origin: Middle English holin, holi, from Old English holen.
, Buddy Originally Charles Hardin Holley. 1938-1959.
American singer, guitarist, and songwriter who greatly influenced the development of rock 'n' roll with songs such as "That'll Be the Day" (1957).