hippopotamus
[hip′ə pät′ə məs]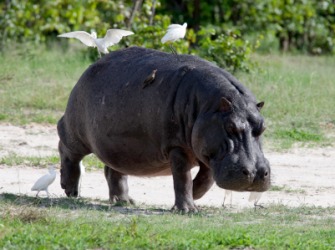 A hippopotamus out for a stroll.
---
hippopotamus definition by Webster's New World
noun
pl. hippopotamuses, hippopotami , hippopotamus
any of a family (Hippopotamyidae) of large, plant-eating, artiodactylous mammals with a heavy, thick-skinned, almost hairless body and short legs: they live chiefly in or near rivers in Africa
Origin: Classical Latin ; from Classical Greek hippopotamos, literally , river horse ; from hippos (see hippo-) plush potamos, river, origin, originally , that which goes down ; from Indo-European base an unverified form pet-, to fall, fly from source feather, Classical Greek pteryx, wing
Webster's New World College Dictionary Copyright © 2010 by Wiley Publishing, Inc., Cleveland, Ohio. Used by arrangement with John Wiley & Sons, Inc.
---
hippopotamus definition by American Heritage Dictionary
noun
pl.
hip·po·pot·a·mus·es
or
hip·po·pot·a·mi
A large, chiefly aquatic African herbivorous mammal (Hippopotamus amphibius) having thick, dark, almost hairless skin, short legs with four toes, and a broad, wide-mouthed muzzle. Also called river horse.
The pygmy hippopotamus.
Origin: Latin, from Greek hippopotamos : hippos, horse; see ekwo- in Indo-European roots + potamos, river; see pet- in Indo-European roots.
hippopotamus
Variant of hippopotamus
noun
pl. hippopotamuses, hippopotami , hippopotamus
any of a family (Hippopotamyidae) of large, plant-eating, artiodactylous mammals with a heavy, thick-skinned, almost hairless body and short legs: they live chiefly in or near rivers in Africa
Origin: Classical Latin ; from Classical Greek hippopotamos, literally , river horse ; from hippos (see hippo-) plush potamos, river, origin, originally , that which goes down ; from Indo-European base an unverified form pet-, to fall, fly from source feather, Classical Greek pteryx, wing