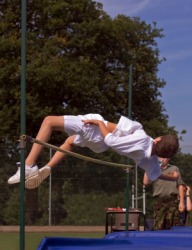 A man participating in a high jump compitition.
---
high jump
an event in which the contestants take turns jumping for height over a horizontal bar set between two upright supports: the bar is gradually raised during the contest until a winner is determined
a jump in such an event
---
high jump
noun
A jump for height made over a horizontal bar in a track-and-field contest.
A contest in which high jumps are made.
Related Forms:
high jump
Antonietta di Martino of Italy at the 2008 Olympic Games
Beijing, China
---
high jump
Noun
(uncountable)
(uncountable) An athletics event where a competitor must jump over a bar placed gradually higher and higher.
Noun
(uncountable)
Alternative spelling of high jump.
---