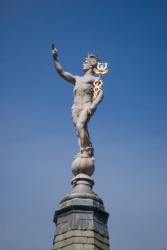 A statue of Hermes.
---
Hermes definition by Webster's New World
noun
Gr. Myth.
the god who serves as herald and messenger of the other gods, generally pictured with winged shoes and hat, carrying a caduceus: he is also the god of science, commerce, eloquence, and cunning, and guide of departed souls to Hades: identified with the Roman Mercury
Origin: Classical Latin ; from Classical Greek Hermēs
Webster's New World College Dictionary Copyright © 2010 by Wiley Publishing, Inc., Cleveland, Ohio. Used by arrangement with John Wiley & Sons, Inc.
---
Hermes definition by American Heritage Dictionary
noun
Greek Mythology
The god of commerce, invention, cunning, and theft, who also served as messenger, scribe, and herald for the other gods.
The American Heritage® Dictionary of the English Language, 4th edition Copyright © 2010 by Houghton Mifflin Harcourt Publishing Company. Published by Houghton Mifflin Harcourt Publishing Company. All rights reserved.
---
hermes - Computer Definition
---
Hermes - Cultural Definition
The messenger god of classical mythology. He traveled with great swiftness, aided by the wings he wore on his sandals and his cap. Hermes was a son of Zeus and the father of Pan.
The caduceus, the wand of Hermes, is the traditional symbol of physicians. It has wings at the top and serpents twined about the staff.