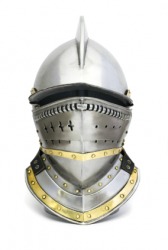 A medieval helmet.
---
helmet
noun
a protective covering for the head; specif.,

the headpiece of ancient or medieval armor
the metal head covering worn in modern warfare
the rigid head covering with inner padding and often a wire face mask used in football, lacrosse, and hockey
the mesh-faced mask used in fencing
the headpiece of a diver's suit, equipped with air tubes, glass windows, etc.
a fireman's protective hat
a pith hat with a wide brim, worn as a sunshade in hot countries
the rigid head covering worn by a motorcyclist
hard hat

something suggesting such a headpiece in appearance or function, as a galea of a flower
Origin of helmet
Old French diminutive of
helme
, helmet ; from Frankish an unverified form
helm
: for Indo-European base see helm
transitive verb
to cover or equip with a helmet
---
helmet
noun
a. A protective head covering made of hard material, such as leather, metal, or plastic: A firefighter's uniform includes a helmet.

b. The headgear with a glass mask worn by deep-sea divers.

c. A pith helmet; a topi.

d. A head covering, such as a balaclava, that is shaped like a helmet.

A piece of armor, usually made of metal, designed to protect the head.
Botany The hood-shaped sepal or corolla of some flowers.
tr. & intr.v.
hel·met·ed
,
hel·met·ing
,
hel·mets
To provide with or put on a helmet.
Origin of helmet
Middle English, from Old French, diminutive of
helme
,
of Germanic origin
; see
kel-
1
in Indo-European roots.
Related Forms:
---
helmet
---