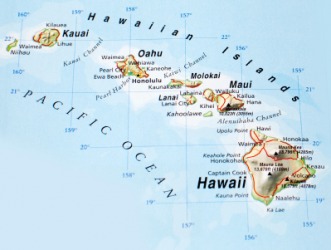 A map of Hawaii.
---
Hawaii
state of the U.S., consisting of a group of islands () in the North Pacific: admitted, 1959: 6,423 sq mi (16,635 sq km); pop. 1,212,000; cap. Honolulu: abbrev. HI

largest & southernmost of the islands of Hawaii, southeast of Oahu: 4,028 sq mi (10,432 sq km); pop. 149,000
Origin of Hawaii
Hawaiian
Hawai'i
from source Proto-Polynesian an unverified form
hawaiki
; akin to
Savai'i
, Savaii
---
Hawaii
or Ha·wai'i
Abbr. HI A state of the United States in the central Pacific Ocean including all of the Hawaiian Islands except Midway. It became a US territory in 1900 and was admitted as the 50th state in 1959. The islands were conquered and united by King Kamehameha I between 1795–1810, and the last Hawaiian monarch, Queen Liliuokalani, was deposed in 1893. Honolulu, on Oahu, is the capital and the largest city.
Popularly called The Big Island. The largest and southernmost of the Hawaiian Islands. It is the top of an enormous submarine mountain and has several volcanic peaks.
---