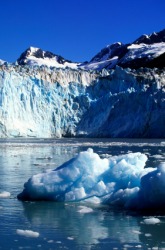 A large glacier.
noun
The definition of a glacier is a huge mass of ice and snow that forms where snow gathers faster than it melts and flows along with water over an area of land.

An example of a glacier is the Perito Moreno in Patagonia.
---
glacier
a large mass of ice and snow that forms in areas where the rate of snowfall constantly exceeds the rate at which the snow melts: it moves slowly outward from the center of accumulation or down a mountain until it melts or breaks away
Origin of glacier
French (orig., Savoy dialect, dialectal from source also German
gletscher
) from Vulgar Latin an unverified form
glaciarium
from
glacia
, for Classical Latin
glacies
, ice: see glacial
---
glacier
noun
A huge mass of ice slowly flowing over a landmass, formed from compacted snow in an area where snow accumulation has exceeded melting and sublimation.
Origin of glacier
French
from
Old French
cold place
from
glace
ice
from
Vulgar Latin
glacia
from
Latin
glaciēs
; see
gel-
in Indo-European roots.
Related Forms:
glacier
Jacobsen Glacier in the Monarch Icefield of the British Columbia Coastal Range, Canada
---
glacier

Noun
(plural glaciers)
(geology) A large body of ice which flows under its own mass, usually downhill.
---
glacier - Computer Definition
---