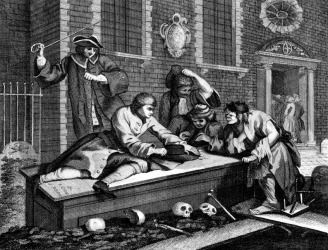 Graverobbers were called ghouls.
---
ghoul definition by Webster's New World
noun
Muslim Folklore

an evil spirit that robs graves and feeds on the flesh of the dead
a person who robs graves
a person who derives pleasure from loathsome acts or things
Origin: Arabic ghūl, demon of the desert ; from ghāla, to seize
Webster's New World College Dictionary Copyright © 2010 by Wiley Publishing, Inc., Cleveland, Ohio. Used by arrangement with John Wiley & Sons, Inc.
---
ghoul definition by American Heritage Dictionary
noun
One who delights in the revolting, morbid, or loathsome.
A grave robber.
An evil spirit or demon in Muslim folklore believed to plunder graves and feed on corpses.
Origin: Arabic ġūl, from ġāla, to seize, snatch; see ġwl in Semitic roots.
Related Forms: