Geneva
[jə nē′və]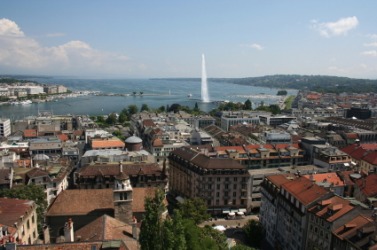 View of the city of Geneva.
---
Geneva
noun
Hollands
Origin of geneva
Dutch
genever
; from Old French
genevre
, juniper berry ; from Classical Latin
juniperus
, juniper
city in SW Switzerland, on Lake Geneva: pop. 174,000

canton of SW Switzerland, largely the city of Geneva & its suburbs: 109 sq mi (282 sq km); pop. 391,000

lake in SW Switzerland, on the French border: 224 sq mi (580 sq km)
---
Geneva
A city of southwest Switzerland located on Lake Geneva and bisected by the Rhone River. Originally an ancient Celtic settlement, it was a focal point of the Reformation after the arrival of John Calvin in 1536. Geneva was the headquarters of the League of Nations (1920–1946) and is still the site of many international organizations.
---
Geneva
Variant of geneva
noun
Hollands
Origin of geneva
Dutch
genever
; from Old French
genevre
, juniper berry ; from Classical Latin
juniperus
, juniper