fob

FOB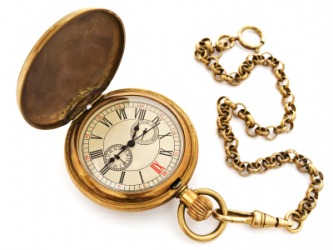 A watch with fob.
noun
The definition of a fob is a watch chain, an ornament attached to a watch or key chain, or a pocket for your watch.

The ornament on the end of a pocket watch chain is an example of a fob.
---
fob
a small pocket in the front of a pair of trousers, for carrying a watch, etc.; watch pocket

a short ribbon or chain attached to a watch and hanging out of such a pocket
any ornament worn at the end of such a ribbon or chain

any small trinket or device attached or made to attach to a key ring or keychain, specif., a small remote-control device that operates the doors, alarm, etc. of an automobile
Origin of fob
probably from dialect, dialectal German
fuppe
, a pocket
transitive verb
fobbed

,

fob′bing
Obs.
to cheat; trick; deceive
Origin of fob
from Middle English
fobben
, to cheat, trick, probably akin to German
foppen
, origin, originally a cant term
fob off
to trick or put off (a person) with second-rate articles, lies, excuses, etc.
to get rid of (something worthless) by deceit or trickery; palm off
FOB
---
fob
noun
A small pocket at the front waistline of a pair of trousers or in the front of a vest, used especially to hold a watch.

a. A short chain or ribbon attached to a pocket watch and worn hanging in front of the vest or waist.

b. An ornament or seal attached to such a chain or ribbon.

A key fob.
Origin of fob
Probably akin to
Low German
Fobke
small pocket
transitive verb
fobbed, fob·bing, fobs
Archaic
To cheat or deceive (another).
Phrasal Verbs:
fob off
To dispose of (goods) by fraud or deception; palm off:
fobbed off the zircon as a diamond.
To put off or appease by deceitful or evasive means:
needed help but was fobbed off with promises.
Origin of fob
Middle English
fobben
probably from
fob
trickster
FOB
abbreviation
father of the bride
free on board
---
fob

Noun
(plural fobs)
A little pocket near the waistline of a pair of trousers or in a waistcoat or vest to hold a pocketwatch; a watch pocket.

1711 Jonathan Swift, Windsor Prophecy:

A small ornament attached to such a chain.
A hand-held remote control device used to lock/unlock motor cars etc.
Usage notes
The Jonathan Swift quote indicates that the word "fob" at that time period did not specifically apply to an object attached to the chain or watch.
A "fob" attached directly to the watch serves as an ornament and or as a grip for more easily pulling the watch from the watch pocket.
A fob attached to a drooping chain would be mainly an ornament.
Origin
High German fuppe ("a pocket")
Verb
(third-person singular simple present fobs, present participle fobbing, simple past and past participle fobbed)
(archaic) To cheat, to trick, to take in, to impose upon someone.

1604 William Shakespeare, Othello, iv, 2:
Origin
German foppen ("to mock")
Acronym
(incoterm) Free On Board
Fresh Off the Boat (slang)
From Our Berth - a commerce term, indicating that the quoted price doesn't include shipping, as you are accepting it "from our berth (shipping dock)"
(military) Forward Operating Base
Noun
(plural FOBs)
A recent immigrant (from "fresh off the boat")
Usage notes
(in reference to Filipinos) Commonly used as an insult. But in recent times, it describes a Filipino background. Like FLIP, it's considered to be insulting, but Filipinos take it to be something of pride. FOB refers to having one of the Filipino accents, usually Tagalog accent. Filipino's take FOB and mean it as "Filipino on Vacation" where in Tagalog it would be pronounced "Filipino on Bakasyon" or something of the sort. It also means newcomer, or someone who is "Fresh" meaning they have the spirit of the native Filipino in them still.
---
fob - Computer Definition
---
fob - Investment & Finance Definition
---