noun
The definition of a fob is a watch chain, an ornament attached to a watch or key chain, or a pocket for your watch.

The ornament on the end of a pocket watch chain is an example of a fob.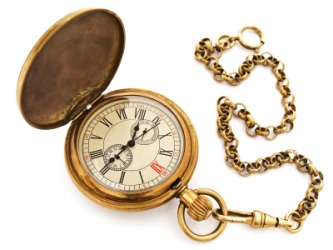 A watch with fob.
---
fob definition by Webster's New World
noun
a small pocket in the front of a pair of trousers, for carrying a watch, etc.; watch pocket
☆ a short ribbon or chain attached to a watch and hanging out of such a pocket
☆ any ornament worn at the end of such a ribbon or chain
Origin: probably ; from dialect, dialectal German fuppe, a pocket
Webster's New World College Dictionary Copyright © 2010 by Wiley Publishing, Inc., Cleveland, Ohio. Used by arrangement with John Wiley & Sons, Inc.
---
fob definition by American Heritage Dictionary
noun
A small pocket at the front waistline of a man's trousers or in the front of a vest, used especially to hold a watch.

a. A short chain or ribbon attached to a pocket watch and worn hanging in front of the vest or waist.

b. An ornament or seal attached to such a chain or ribbon.
Origin: Probably akin to Low German Fobke, small pocket.
transitive verb
fobbed
fobbed
,
fob·bing
,
fobs
Archaic
To cheat or deceive (another).
Phrasal Verb:
fob off
To dispose of (goods) by fraud or deception; palm off:
fobbed off the zircon as a diamond.
To put off or appease by deceitful or evasive means:
needed help but was fobbed off with promises.
Origin: Middle English fobben, probably from fob, trickster.
abbreviation
free on board
The American Heritage® Dictionary of the English Language, 4th edition Copyright © 2010 by Houghton Mifflin Harcourt Publishing Company. Published by Houghton Mifflin Harcourt Publishing Company. All rights reserved.
---
fob - Business Definition
---
fob - Computer Definition
---
fob - Investment & Finance Definition
See free on board.
---
fob - Phrases/Idioms
fob off
to trick or put off (a person) with second-rate articles, lies, excuses, etc.
to get rid of (something worthless) by deceit or trickery; palm off
fob
Variant of fob
noun
a small pocket in the front of a pair of trousers, for carrying a watch, etc.; watch pocket
☆ a short ribbon or chain attached to a watch and hanging out of such a pocket
☆ any ornament worn at the end of such a ribbon or chain
Origin: probably ; from dialect, dialectal German fuppe, a pocket