fixation

fix·a·tion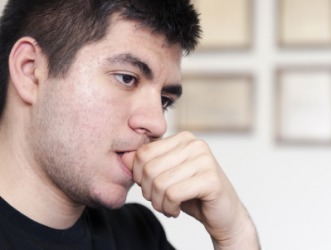 This man's fixation is biting his nails.
noun
The definition of a fixation is a point of focus, an obsession or the chemical reduction into a solid form.

An example of a fixation is a compulsion to bite one's nails.
---
fixation
a fixating or a being fixated; specif.,

the directing and focusing of the eyes
an exaggerated preoccupation; obsession

Chem.

reduction into a solid, permanent, or nonvolatile form
nitrogen fixation

Photog.

the treatment of a film, print, etc. to make it permanent

Psychoanalysis

an arrest of the expression of the libidinal or aggressive drive at an early stage of psychosexual development, or a persistent attachment to some object or person that derives from this
Origin of fixation
Middle English
fixacioun
from Medieval Latin
fixatio
from
fixatus
: see fixate
---
fixation
noun
The act or process of fixing or fixating: the fixation of nitrogen by bacteria.
An obsessive preoccupation.
Psychology A strong attachment to a person or thing, manifested in an immature or pathological way.
---
fixation

Noun
(plural fixations)
The act of uniting chemically with a solid substance or in a solid form; reduction to a non-volatile condition; -- said of gaseous elements.
The act or process of ceasing to be fluid and becoming firm.
In metals, a state of resistance to evaporation or volatilization by heat.
A state of mind involving obsession with a particular person, idea, or thing.
(law) Recording a creative work in a medium of expression for more than a transitory duration, thereby satisfying the "fixation" requirement for the purposes of copyright law.

In order to obtain copyright on a recording in the United States, the recording must have been reduced to fixation on or after February 15, 1972.
Origin
From Old French fixation.
---