einstein
[īn′stīn′]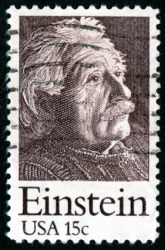 A postage stamp honoring Albert Einstein.
---
einstein
Einstein, Albert 1879-1955; U.S. physicist, born in Germany: formulated theory of relativity
---
einstein
Noun
(plural einsteins)
(photochemistry) One mole of photons, regardless of frequency, as used to measure irradiance.
Proper noun
Albert Einstein, the world-famous 20th Century theoretical physicist who developed the theory of relativity.
A surname​.
Noun
(plural Einsteins)
An extremely clever or intelligent person.

Can you believe he's just a kindergartener? It looks like they've got an Einstein in the family.
---
einstein
Variant of Einstein