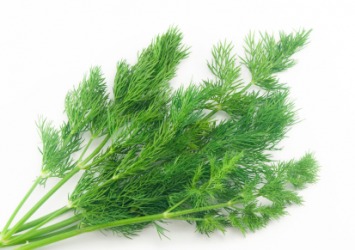 Sprigs of fresh dill.
---
dill
noun
any of a genus (Anethum) of plants of the umbel family, esp. a European herb (A. graveolens) with bitter seeds and aromatic leaves, used to flavor pickles, soups, etc.
the seeds or leaves
dill pickle
Origin of dill
Middle English and amp; Old English
dile
, akin to Old Saxon
dille
, Old High German
tilli
---
dill
noun
An aromatic herb (Anethum graveolens) in the parsley family, native to Eurasia, having finely dissected leaves and small yellow flowers clustered in umbels.
The leaves or seeds of this plant, used as a seasoning.
Origin of dill
Middle English
dile
, from Old English.
dill
Anethum graveolens
---
dill
Noun
(countable and uncountable, plural dills)
Anethum graveolens (the sole species of the genus Anethum), a herb, the seeds of which are moderately warming, pungent, and aromatic, formerly used as a soothing medicine for children; also known as dillseed.
A cucumber pickled with dill flavoring, also called a dill pickle.
(informal) a fool.
Verb
(third-person singular simple present dills, present participle dilling, simple past and past participle dilled)
To lull to sleep.
---