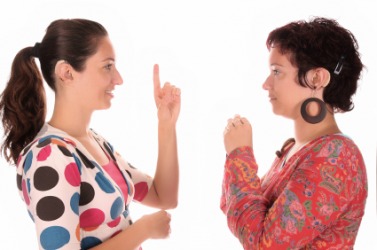 Sign language is used by people who are deaf.
adjective
The definition of deaf is someone who cannot hear, or someone who chooses not to hear or absorb certain information.

If you are unable to hear, this is an example of a time when you are described as deaf.
If you are unwilling to hear any explanations, this is an example of a time when you are deaf to all explanations.
---
deaf
physiologically unable to hear, totally or partially
unwilling to hear or listen; giving no heed: deaf to her pleas
Origin of deaf
Middle English
def
from Old English
deaf
, akin to German
taub
, Gothic an unverified form
daufs
from Indo-European an unverified form
dheubh-
, misty, obscured from base an unverified form
dheu-
: see dull
---
deaf
adjective
deaf·er, deaf·est
Partially or completely lacking in the sense of hearing.
often Deaf Of or relating to the Deaf or their culture.
Unwilling or refusing to listen; heedless: was deaf to our objections.
noun
used with a pl. verb
Deaf people considered as a group. Used with the.
often Deaf The community of deaf people who use American Sign Language as a primary means of communication. Used with the.
Origin of deaf
Middle English
def, deef
from
Old English
dēaf
Related Forms:
Usage Note: The rise of the Deaf Pride movement in the 1980s introduced a distinction between deaf and Deaf, with the capitalized form used specifically in referring to deaf persons belonging to the community—also known as Deaf culture —that has formed around the use of American Sign Language as the preferred means of communication.
---
deaf

Adjective
(comparative deafer, superlative deafest)
Unable to hear, or only partially able to hear.
Unwilling to listen or be persuaded; determinedly inattentive; regardless.

Those people are deaf to reason.

Obscurely heard; stifled; deadened.
Noun
Deaf people considered as a group.
Verb
(third-person singular simple present deafs, present participle deafing, simple past and past participle deafed)
(obsolete) To deafen.
Adjective
(not comparable)
Of or relating to the culture surrounding deaf users of sign languages.
---