noun
The definition of a dandelion is a weed from the daisy family with yellow flowers.

A weed with bright yellow flowers that turn into white tufts that children blow into the wind and make a wish upon is an example of adandelion.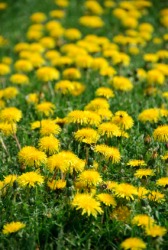 A field of dandelions.
---
dandelion definition by Webster's New World
noun
any of several plants (genus Taraxacum) of the composite family, common weeds with jagged leaves, often used as greens, and yellow flowers
Origin: Middle English dentdelyon ; from Old French dent de lion, literally , tooth of the lion ; from Classical Latin dens (gen. dentis), tooth plush de, of plush leo, lion: so called from the jagged leaves
Webster's New World College Dictionary Copyright © 2010 by Wiley Publishing, Inc., Cleveland, Ohio. Used by arrangement with John Wiley & Sons, Inc.
---
dandelion definition by American Heritage Dictionary
noun
A Eurasian plant (Taraxacum officinale) of the composite family having many-rayed yellow flower heads and deeply notched basal leaves. Widely naturalized as a weed in North America, it is used in salads and to make wine.
Any of several similar or related plants.
A brilliant to vivid yellow.
Origin: Middle English dent-de-lioun, from Old French dentdelion, from Medieval Latin dēns leōnis, lion's tooth (from its sharply indented leaves) : Latin dēns, dent-, tooth; see dent- in Indo-European roots + Latin leōnis, genitive of leō, lion; see Lion .
Word History:
Dent-de-lioun,
the Middle English form of
dandelion,
makes it easy to see that our word is a borrowing of Old French
dentdelion,
literally, "tooth of the lion," referring to the sharply indented leaves of the plant. Modern French
dent-de-lion,
unlike Modern English
dandelion,
reveals to anyone who knows French what the components of the word are. The English spelling reflects the pronunciation of the Old French word at the time it was borrowed into English. The
t
in
dentdelion
probably disappeared early in Old French, having been absorbed into the related sound of the
d.
The earliest recorded instance of the word occurs in an herbal written in 1373, but we find an instance of
dandelion
used in a proper name (Willelmus Dawndelyon) in a document dated 1363.
dandelion
common dandelion Taraxacum officinale