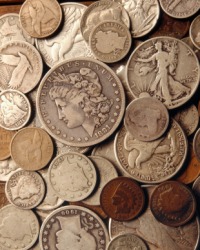 These coins might be collectible.
adjective
The definition of collectible is able to be brought together into a series.

An example of collectible used as an adjective is the phrase collectible coins which means coins that people collect.
noun
A collectible is defined as one of a group of objects that people collect.

An example of a collectible is the stuffed toy called a Beanie Baby.
---
collectible
or col·lect′able
that can be collected
suitable or desirable for collecting, as by a hobbyist
any of a class of things that people collect as a hobby, typically a thing of no great intrinsic value
---
collectible
also col·lect·a·ble
adjective
Worthy of being collected: collectible antique coins.
Capable of being collected: a collectible loan.
noun
One of a group or class of objects, such as period glass or historical memorabilia, sought by collectors.
---
collectible

Adjective
(comparative more collectible, superlative most collectible)
Worthy or suitable for collecting on historical/financial grounds, or for meeting a personal aesthetic.

collectible stamps, collectible china, collectible Beatles memorabilia

Rightfully subject to payment.

a collectible bill

That is likely to be paid.

He's owed it to us for six months, but it doesn't look very collectible to me.
Noun
(plural collectibles)
An object which someone might want to collect.
---