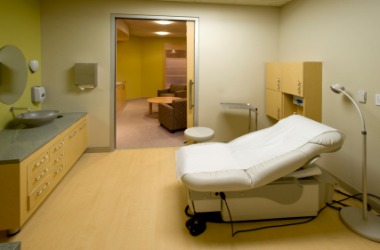 An examination room in a clinic.
---
clinic
noun
the teaching of medicine by examining and treating patients in the presence of students
a class so taught
a place where patients are studied or treated by specialist physicians practicing as a group
a department of a hospital or medical school, where outpatients are treated, sometimes without being charged or for a small fee
an organization or institution that offers some kind of advice, treatment, or instruction: a maternal health clinic
a brief, intensive session of group instruction in a specific skill, field of knowledge, etc.: a basketball clinic
Origin of clinic
French
clinique
; from Classical Greek
klinikē
(
technē
), (practice) at the sickbed ; from
klinikos
, of the bed ; from
klinē,
bed ; from
klinein,
to recline: see lean
---
clinic
noun
A facility, often associated with a hospital or medical school, that is devoted to the diagnosis and care of outpatients.
A medical establishment run by several specialists working in cooperation and sharing the same facilities.
A group session offering counsel or instruction in a particular field or activity: a vocational clinic; a tennis clinic.

a. A seminar or meeting of physicians and medical students in which medical instruction is conducted in the presence of the patient, as at the bedside.

b. A place where such instruction occurs.

c. A class or lecture of medical instruction conducted in this manner.
Origin of clinic
French
clinique
, from Greek
klīnikē (tekhnē)
,
clinical (method)
, feminine of
klīnikos
, from
klīnē
,
couch, bed
; see
clinandrium
.
suffix
Sloping: isoclinic.
Having a specified number of oblique axial intersections: triclinic.
---
clinic
Noun
(plural clinics)
A medical facility, such as a hospital, especially one for the treatment and diagnosis of outpatients.
A group practice of several physicians.
A meeting for the diagnosis of problems, or training, on a particular subject.
A temporary office arranged on a regular basis to allow politicians to meet their constituents.
(wrestling) A series of workouts used to build skills of practitioners regardless of team affiliation.
---