noun
The definition of a choir is a group of singers, often in a church setting.

An example of a choir is the members of a church that sing hymns from the front of a church.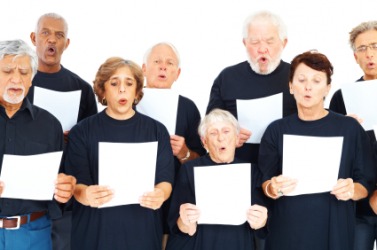 A group of singers at choir practice.
---
choir definition by Webster's New World
noun
a group of singers organized and trained to sing together, esp. in a church
the part of a church they occupy, as a chancel or choir loft
☆ an instrumental section of an orchestra: the brass choir
any organized group or band, as of dancers

Theol.

any of the nine orders of angels
Origin: ; from Middle English quere ; from Old French cuer ; from Midieval Latin chorus, choir ; from Classical Latin (see chorus); spelling, spelled altered under influenced, influence of Classical Latin
transitive verb
,
intransitive verb
Old Poet.
to sing in chorus
Webster's New World College Dictionary Copyright © 2010 by Wiley Publishing, Inc., Cleveland, Ohio. Used by arrangement with John Wiley & Sons, Inc.
---
choir definition by American Heritage Dictionary
noun
An organized company of singers, especially one performing church music or singing in a church.

a. The part of a church used by such a company of singers.

b. The part of the chancel in a cruciform church that is occupied by this company of singers.

a. A group of instruments of the same kind: a string choir.

b. A division of some pipe organs, containing pipes suitable for accompanying a choir.

An organized group: a choir of dancers.
One of the orders of angels.
intransitive verb
choired
,
choir·ing
,
choirs
To sing in chorus.
Origin: Middle English quer, quire, from Old French cuer, from Medieval Latin chorus, from Latin, choral dance; see chorus.