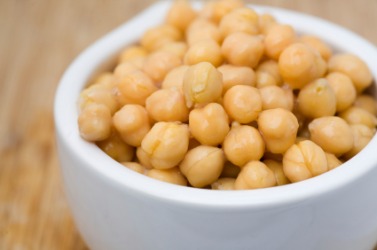 A bowl of cooked chickpeas.
---
chickpea definition by Webster's New World
noun
a bushy annual plant (Cicer arietinum) of the pea family, with short, hairy pods containing usually two seeds; garbanzo
the edible seed
Origin: for chick pea ; from Middle English and amp; Old French chiche ; from Classical Latin cicer, pea
Webster's New World College Dictionary Copyright © 2010 by Wiley Publishing, Inc., Cleveland, Ohio. Used by arrangement with John Wiley & Sons, Inc.
---
chickpea definition by American Heritage Dictionary
noun
In both senses also called
garbanzo
.
An annual Asian plant (Cicer arietinum) in the pea family, widely cultivated for the edible seeds in its short inflated pods.
A seed of this plant.
Origin: Obsolete chichpease : Middle English chiche, chickpea (from Old French, from Latin cicer) + pease, pea; see pea.