noun
The definition of a chap is a man or boy.

A man is an example of a chap.
verb
To chap is defined as to become cracked or dry.

When your skin becomes dry and prone to cracking, this is an example of a time when your skin begins to chap.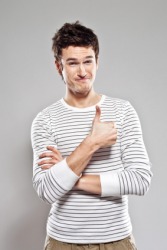 A young chap.
---
chap definition by Webster's New World
noun
chop
Origin: probably ; from Middle English cheppe ; from uncertain or unknown; perhaps
noun
Informal
a man or boy; fellow
Origin: ; from chapman
transitive verb
,
intransitive verb
chapped or chapt, chapping
to crack open; split; roughen, as the skin from exposure to cold
Origin: Middle English chappen, variant, variety of choppen: see chop
noun
a chapped place in the skin
Webster's New World College Dictionary Copyright © 2010 by Wiley Publishing, Inc., Cleveland, Ohio. Used by arrangement with John Wiley & Sons, Inc.
---
chap definition by American Heritage Dictionary
verb
chapped
chapped
,
chap·ping
,
chaps
verb
, transitive
To cause (the skin) to roughen, redden, or crack, especially as a result of cold or exposure: The headwind chapped the cyclist's lips.
verb
, intransitive
To split or become rough and sore: skin that chaps easily in winter.
noun
A sore roughening or splitting of the skin, caused especially by cold or exposure.
Origin: Middle English chappen.
noun
Informal
A man or boy; a fellow.
Origin: Short for chapman.
The American Heritage® Dictionary of the English Language, 4th edition Copyright © 2010 by Houghton Mifflin Harcourt Publishing Company. Published by Houghton Mifflin Harcourt Publishing Company. All rights reserved.
---
chap - Computer Definition
An authentication scheme used in Pointto-Point Protocol (PPP) remote access servers (RASs) to validate the identity of a remote user. CHAP employs a challenge-response mechanism that challenges the remote user with a random number.The user responds with a digest, which is an encrypted password based on the random number challenge.The RAS then decrypts the password using that same random number key to verify the identity of the remote user. This approach is much more secure that the predecessor Password Authentication Protocol (PAP). See also authentication, encryption, PAP, password, PPP, and RAS.
(Challenge Handshake Authentication Protocol) An access control protocol for dialing into a network that provides a moderate degree of security. When the client logs onto the network, the network access server (NAS) sends the client a random value (the challenge). The client encrypts the random value with its password, which acts as an encryption key. It then sends the encrypted value to the NAS, which forwards it along with the challenge and username to the authentication server. The CHAP server encrypts the challenge with the password stored in its database for the user and matches its results with the response from the client. If they match, it indicates the client has the correct password, but the password itself never left the client's machine. See PAP, PPP and challenge/response.