cathedral

ca·the·dral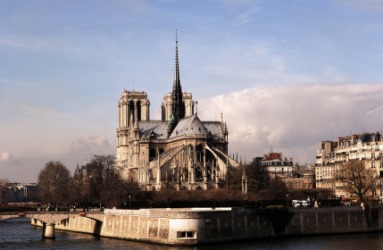 Notre Dame cathedral in Paris.
noun
The definition of a cathedral is a large and beautiful place for worship.

An example of a cathedral is Westminster Abbey.
---
cathedral
the main church of a bishop's see, containing the cathedra

loosely

any large, imposing church
Origin of cathedral
Middle English from Old French from Late Latin
cathedralis (ecclesia)
, (church) of a bishop's seat from Classical Latin
cathedra
: see cathedra
of, like, or containing a cathedra
official; authoritative
of or like a cathedral
---
cathedral
noun
The principal church of a bishop's diocese, containing the episcopal throne.
A large, important church.
Something that resembles a cathedral, as in grandeur or authority.
adjective
Of, relating to, or containing a bishop's throne: a cathedral church.
Relating to or issuing from a chair of office or authority; authoritative.
Of, relating to, or resembling a cathedral: tall trees whose branches met to form cathedral arches over the path.
Origin of cathedral
Short for
cathedral church
from
Middle English
cathedral
of a diocese
from
Old French
from
Medieval Latin
cathedrālis
of a bishop's see
from
Latin
cathedra
chair
; see
cathedra
.
---
cathedral

Origin
From cathedral church, from Late Latin ecclēsia cathedrālis ("church having a bishop's seat"), from Ancient Greek καθέδρα (kathedra, "chair of a teacher, throne"), from κατά (kata, "down") + ἕδρα (hedra, "seat").
---