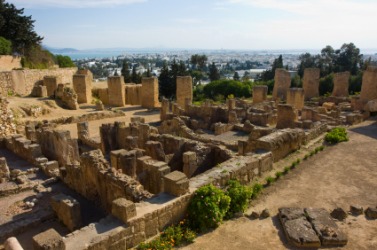 The ruins of ancient Carthage.
---
Carthage definition by Webster's New World
ancient city-state in N Africa, founded (9th cent. ) by Phoenicians near the site of modern Tunis and destroyed by the Romans in 146 (see Punic Wars): rebuilt by Romans (44 ) & destroyed by Arabs ( 698)
Webster's New World College Dictionary Copyright © 2010 by Wiley Publishing, Inc., Cleveland, Ohio. Used by arrangement with John Wiley & Sons, Inc.
---
Carthage definition by American Heritage Dictionary
An ancient city and state of northern Africa on the Bay of Tunis northeast of modern Tunis. It was founded by the Phoenicians in the ninth century B.C. and became the center of Carthaginian power in the Mediterranean after the sixth century B.C. The city was destroyed by the Romans at the end of the Third Punic War (146 B.C.) but was rebuilt by Julius Caesar and later (A.D. 439-533) served as capital of the Vandals before its virtual annihilation by the Arabs (698).
Related Forms:
Carˌtha·ginˈi·an

adjective

& n.
The American Heritage® Dictionary of the English Language, 4th edition Copyright © 2010 by Houghton Mifflin Harcourt Publishing Company. Published by Houghton Mifflin Harcourt Publishing Company. All rights reserved.
---
Carthage - Cultural Definition
An ancient city in north Africa, established by traders from Phoenicia. Carthage was a commercial and political rival of Rome for much of the third and second centuries b.c. The Carthaginian general Hannibal attempted to capture Rome by moving an army from Spain through the Alps, but he was prevented and finally defeated in his own country. At the end of the Punic Wars, the Romans destroyed Carthage, as the senator Cato had long urged. The character Dido, lover of Aeneas in the Aeneid, was a queen of Carthage.