Mediterranean

Med·i·ter·ra·ne·an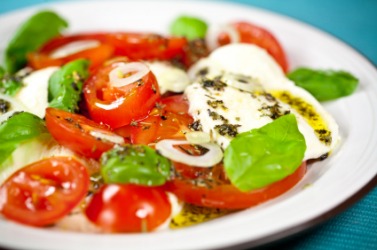 This Italian dish is an example of something that is Mediterranean.
adjective
The definition of Mediterranean is something related to or characteristic of the Mediterranean Sea, the countries bordering the sea or its inhabitants.

Food that comes from a country bordering the Mediterranean Sea is an example of something that would be described as mediterranean.
noun
Mediterranean is defined as the Mediterranean Sea or a native of a country bordering the Mediterranean Sea.

The largest inland sea, located between Europe, Asia and Africa, is an example of the Mediterranean.
---
Mediterranean
[m-]

Archaic

far from the coast; inland: said of land
surrounded, or almost surrounded, by land; landlocked: said of water

of the Mediterranean Sea or nearby regions
designating or of a physical type of the Caucasoid peoples exemplified by the long-headed, short, olive-skinned people living around the Mediterranean Sea
designating or of a style of furniture made, as through the use of plastic moldings, to simulate the heavy wood, massive lines, and ornate carving of a kind of Renaissance furniture
Origin of Mediterranean
from Classical Latin
mediterraneus
from
medius
, middle (see mid) +
terra
, land (see terrain)
---
mediterranean
adjective
Surrounded nearly or completely by dry land. Used of large bodies of water, such as lakes or seas.
Meteorology Of or relating to climates characterized by hot, dry summers and mild, wet winters.
Origin of mediterranean
Latin
mediterrāneus
inland
medius
middle
; see
medhyo-
in Indo-European roots.
terra
land
; see
ters-
in Indo-European roots.
Mediterranean
The region surrounding the Mediterranean Sea. Several important ancient civilizations flourished in the region, which was dominated for centuries by Phoenicia, Carthage, Greece, Rome, and the Byzantine, Arab, and Ottoman empires.
Related Forms:
Med′i·ter·ra′ne·an

adjective

noun
---