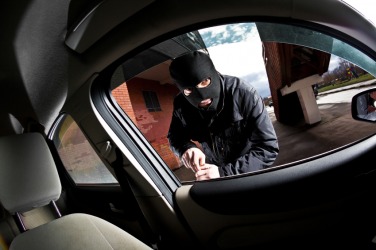 Carjacking is stealing a car.
verb
To carjack is to steal a car by hitting the victim's vehicle with another car, and then forcing the victim to get out of the car.

An example of to carjack is for a fleeing bank robber to hit a car at a red light and then run over to the car that was hit, demanding that the driver get out of the car, and then driving off with the damaged car.
---
carjack
or car-jack
transitive verb
car·jacked, car·jack·ing, car·jacks,
or
car-jacked
or
car-jack·ing
or
car-jacks
To take or attempt to take (a motor vehicle) from another person by use of force or intimidation.
Origin of carjack
car
(hi)jack
Related Forms:
---
carjack

Verb
(third-person singular simple present carjacks, present participle carjacking, simple past and past participle carjacked)
To steal an automobile forcibly from someone.

Someone should carjack that pompous jerk and teach him a lesson!

To forcibly steal some vehicle.

These twerps have carjacked their last Mercedes.
---