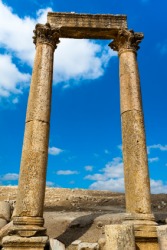 A capstone on pillars.
noun
The definition of a capstone is a concluding or crowning achievement, a finishing touch or a large flat stone placed on top of a wall or building.

Landing a major account the day before you retire is an example of a capstone in your career.
The flat finished row of stones placed atop a retaining wall built in your back yard that gives the wall a clean, smooth top is an example of a capstone.
---
capstone
the uppermost stone of a structure
any of the stones in a coping

the highest point, as of achievement
---
capstone
noun
The top stone of a structure or wall.
The crowning achievement or final stroke; the culmination or acme.
---
capstone

---