camera

cam·er·a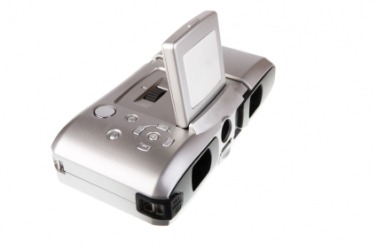 A digital camera for photography.
noun
The definition of a camera is an electronic device that captures pictures, movies or other visual images either digitally or on film.

An example of a camera is a small electronic device with a lens that you use to take pictures.
---
camera
noun
pl.

cam′eras

; also for 1,

-·erae·
a chamber: now only in in camera (see phrase below)
camera obscura

Origin of camera

< camera obscura any of various devices for recording or transmitting images or sequences of images, consisting essentially of a closed case with a lens that focuses incoming light on a sensitive material, as film, or on an electronic receptor
Origin of camera
Classical Latin
camera
, vault from Classical Greek
kamara
, vaulted chamber from Indo-European base an unverified form
kam-
, to arch
in camera
in a judge's private office rather than in open court
in privacy or secrecy
on (or off) camera
so positioned as to be within (or out of) the camera's field of view
---
camera
noun
A usually portable device containing a photosensitive surface that records images through a lens.
A camera obscura.
pl. cam·er·ae, A judge's private chamber.
Origin of camera
Late Latin
room
; see
chamber
.
---
camera

in camera
camera obscura
camera ready
Origin
From New Latin camera obscura ("dark chamber"), because the first cameras used a pinhole and a dark room; from Latin camera ("chamber or bedchamber"), from Ancient Greek καμάρα (kamara, "anything with an arched cover, a covered carriage or boat, a vaulted chamber, a vault").
See also:
caméra
---
camera - Computer Definition
(1) A stand-alone device that records still or moving images as analog scenes on film or as pixels in digital storage. Movie cameras, which are called "camcorders," also include a microphone for audio capture. The world of photography and movie making has migrated from film (analog) to digital, and all digital cameras can play back the recorded material on a small, built-in LCD screen. See digital camera, point-and-shoot camera, POV camera, DSLR and camcorder.
(2) A back-facing element in a smartphone or tablet that records still and moving images for later viewing.
(3) A front-facing element in a smartphone, tablet or laptop computer that captures and transmits images in real time for video calls. See video calling and Webcam.
---