bur

Bur.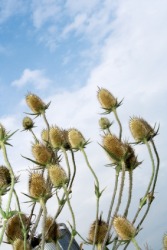 A group of plants with burs.
noun
The definition of a bur is the rough case on a plant that holds seeds or fruit by hooks or teeth.

An example of a plant with burs is ragweed.
verb
Bur means to remove prickly parts.

An example of bur is to remove the prickly husks from a tumbleweed.
---
bur
the rough, prickly seedcase or fruit of certain plants, as the sticktight, cocklebur, etc.
a weed or other plant with burs
anything that clings like a bur

Dentistry

a cutting or drilling bit
burr & burr
Origin of bur
Middle English
burre
from Scand; akin to Danish
burre,
Swedish
borre
from Indo-European an unverified form
bhors-
: for base see bristle
transitive verb
burred

,

bur′ring
to remove burs from
to burr
Bur
---
bur
also burr
noun
a. A rough prickly husk or covering surrounding the seeds or fruits of plants such as the chestnut or the burdock.

b. A plant producing such husks or coverings.

A persistently clinging or nettlesome person or thing.
A rough protuberance, especially a burl on a tree.
Any of various rotary cutting tools designed to be attached to a drill.
Origin of bur
Middle English
burre
of Scandinavian origin
bur.
Bur.
---
bur

Noun
(plural burs)
A rough, prickly husk around the seeds or fruit of some plants.
Any of several plants having such husks.
A rotary cutting implement having a selection of variously shaped heads.
Alternative form of burr (small piece of material)
Origin
From a Scandinavian language, such as Danish burre ("bur, burdock"). See also burr.
See also:
búr
Prefix
Placename prefix, indicated site of a fortified place.
Origin
From Old English burh ("fortified place")
---