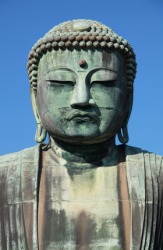 A large statue of Buddha, the founder of Buddhism.
---
Buddha definition by Webster's New World
noun
a statue or image of Buddha
Siddhartha Gautama, religious philosopher and teacher who lived in India 563?-483? and was the founder of Buddhism: the name is a title applied by Buddhists to someone regarded as embodying divine wisdom and virtue
Origin: Sanskrit the enlightened one; past participle of budh, to awake, know ; from Indo-European base an unverified form bheudh-: see bid
Webster's New World College Dictionary Copyright © 2010 by Wiley Publishing, Inc., Cleveland, Ohio. Used by arrangement with John Wiley & Sons, Inc.
---
Buddha definition by American Heritage Dictionary
Originally Siddhartha Gau·ta·ma 563?-483? B.C.
Indian mystic and founder of Buddhism. He began preaching after achieving supreme enlightenment at the age of 35.
noun
One who has achieved a state of perfect spiritual enlightenment in accordance with the teachings of Buddha.
A representation or likeness of Buddha.
Origin: Sanskrit buddha-, enlightened, past participle of bodhati, he awakes; see bheudh- in Indo-European roots.