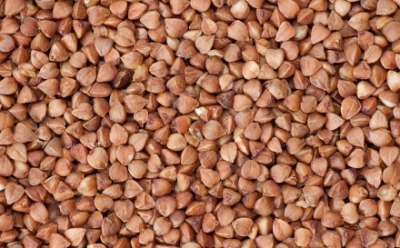 Buckwheat grains.
---
buckwheat definition by Webster's New World
noun
any of several plants (genus Fagopyrum) of the buckwheat family, grown for their black, triangular grains
the grain of this plant, from which a dark flour is made
☆ this flour
Origin: ; from Middle English bok- (; from Old English boc-), beech plush wheat, translated, translation of Middle Dutch boecweit or Middle Low German bokwete: from the resemblance of the seeds to beechnuts
adjective
designating a family (Polygonaceae, order Polygonales) of dicotyledonous plants, including rhubarb, dock, and sorrel
Webster's New World College Dictionary Copyright © 2010 by Wiley Publishing, Inc., Cleveland, Ohio. Used by arrangement with John Wiley & Sons, Inc.
---
buckwheat definition by American Heritage Dictionary
noun
a. An annual Asian plant (Fagopyrum esculentum) having clusters of small whitish or pinkish flowers and small, seedlike, triangular fruits.

b. The edible fruits of this plant, used either whole or ground into flour.

Any of several similar or related plants.
Origin: Probably partial translation of Middle Dutch boecweite : boek, beech; see bhāgo- in Indo-European roots + weite, wheat.
buckwheat
Fagopyrum esculentum