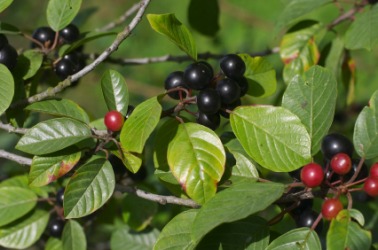 A closeup of buckthorn leaves and berries.
---
buckthorn definition by Webster's New World
noun
any of a genus (Rhamnus) of thorny trees or shrubs of the buckthorn family, bearing small greenish flowers and purple berries
any of a genus (Bumelia) of trees of the sapodilla family, native to the S U.S.
Origin: buck plush thorn
adjective
designating a family (Rhamnaceae, order Rhamnales) of dicotyledonous shrubs and trees, including the cascara, jujube, and redroot
Webster's New World College Dictionary Copyright © 2010 by Wiley Publishing, Inc., Cleveland, Ohio. Used by arrangement with John Wiley & Sons, Inc.
---
buckthorn definition by American Heritage Dictionary
noun
Any of various shrubs or small trees of the genus Rhamnus, which includes several ornamentals and a few medicinal species such as the cascara buckthorn.
See bumelia.
Origin: Translation of New Latin cervī spīna : cervī, genitive of cervus, deer, buck + spīna, thorn.